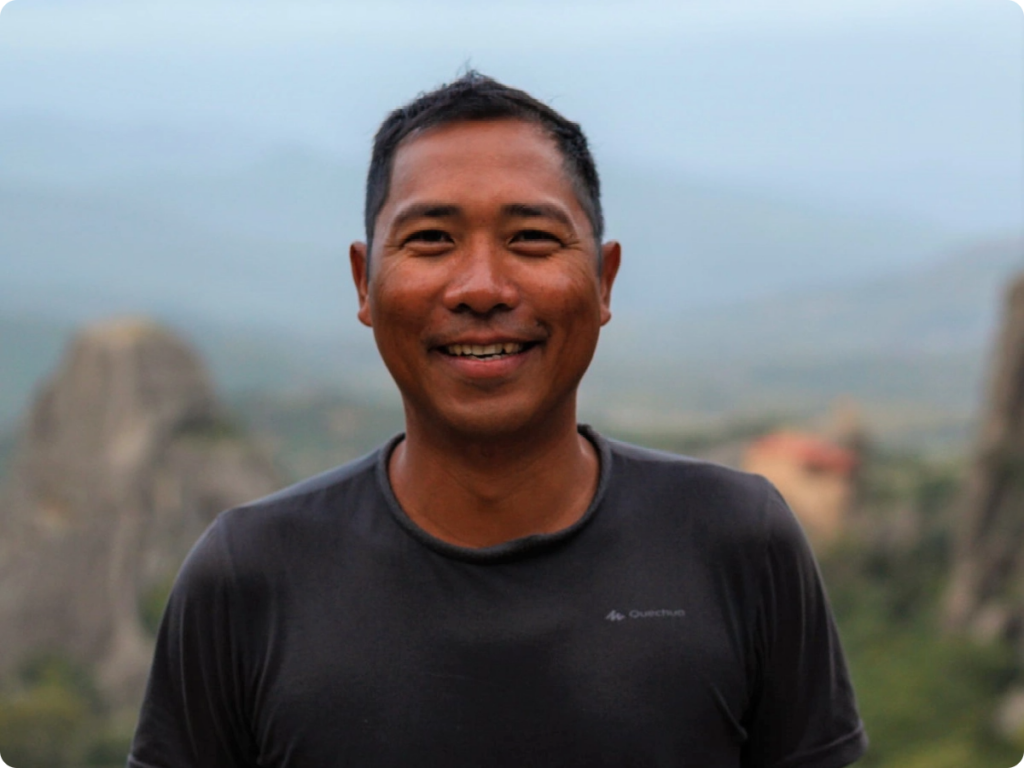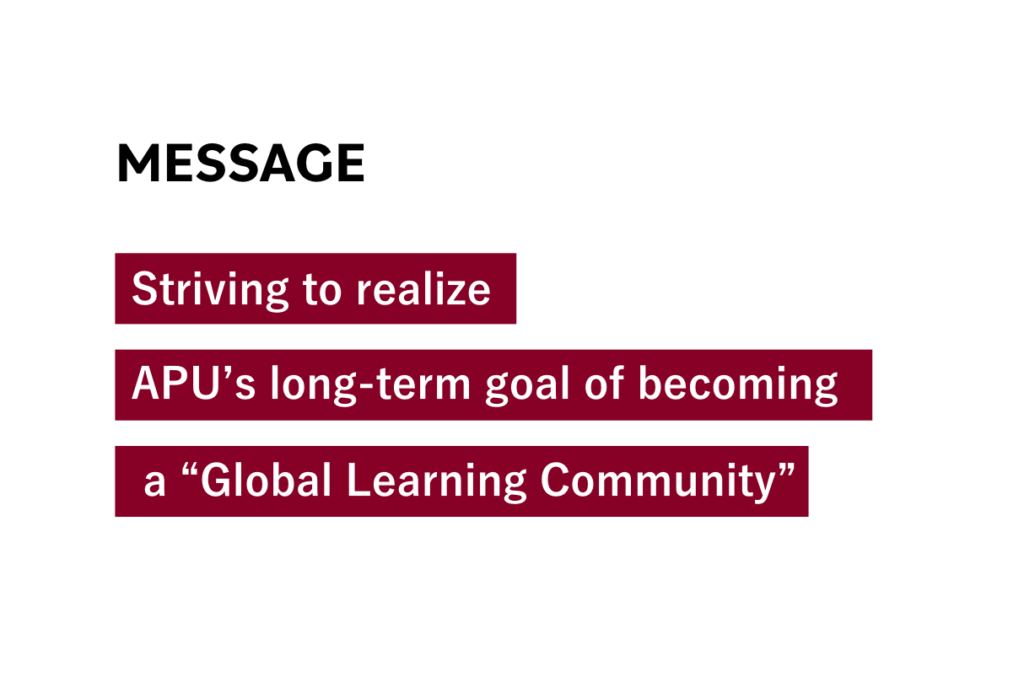 Dear Alumni,

I bring you warm greetings and best wishes, on behalf of the current Board Team of our APU Alumni Association.
My name is Morse Caoagas Flores. I am from the Philippines and I graduated in APU in Spring 2006.
This year marks the 20th anniversary of the founding of APU Alumni Association, a milestone in the history of the University and the Association. With more than 22, 000 alumni in 150 countries/regions; representing 37 chapters and 4 groups and working in various sectors and fields, the alumni community forms the largest constituent of the University. The Alumni is the global face of APU.
To commemorate this important milestone, the Board Team of the Alumni Association (hereafter the Board) has started planning the 20th Anniversary Project at the end of 2022 by initiating a series of consultations with the Chapter/Group leaders, relevant APU authorities and student representatives (Loop A.S.). Consequently, it was agreed that celebration has to capture the diversity and the global presence of the Alumni family, and celebrate this achievement globally, by encouraging anniversary activities led by chapters and groups throughout 2023, with a culminating event being held at APU towards the end of the year.
A Call for Applications for 20th Anniversary activities had been issued at the beginning of 2023 and the Board has taken a decision to support them. The 20th Anniversary Project Committee of the following seven alumni, who will take the lead in the roll out of the Project, has been created recently.
・Sajitha Perera 2005/2012
・Sabriya Naamani 2009
・Navneet Singh 2010
・Martin Manganye 2016
・阿志 慎太郎 (Aswin Pushparaja) 2017
・Kalpana Ramsharma 2020
・Awad Alyamany 2022
In June 2023, the Board has decided that a 3-day event in APU in December 2023 will serve as the culminating event of the 20th Anniversary Celebration. Taking into account that the Board meeting or Chapter/group leaders meeting have not been held in person for the past three years, the Board has agreed that this culminating event will be a combination of three elements:
1) Board meeting and Chapter/group leaders meeting;
2) Chapters/groups to contribute to student support in a variety of events;
3) 20th Anniversary Celebration where both students and alumni alike will have the opportunity to unite/reunite, share experience and expertise (e.g. Career Development, Networking, etc.).
Most importantly, the Board agreed that the 20th Anniversary Celebration should be an opportunity for APU to stake stock on the achievements of its alumni and provide a space for them to renew their ties with APU. Above all, that the 20th Anniversary Celebration should be seen as an opportunity for alumni to create a pledge, a commitment to strengthen its continuous support to APU, in educating global citizens who can "shape the world", by "thinking globally, understanding locally and acting internationally".

Overall schedule

Discussions: for board members and chapter/group leaders to create a pledge, or a commitment to strengthen its continuous support to APU, and to announce and livestream it at the Reception on APU Global Family Day.
GOAL lectures: for current students, where selected alumni share their experience of mastering their opposite language and/or in a particular chosen discipline.
Networking: time for exchange


APU Global Family Day (updated November 22)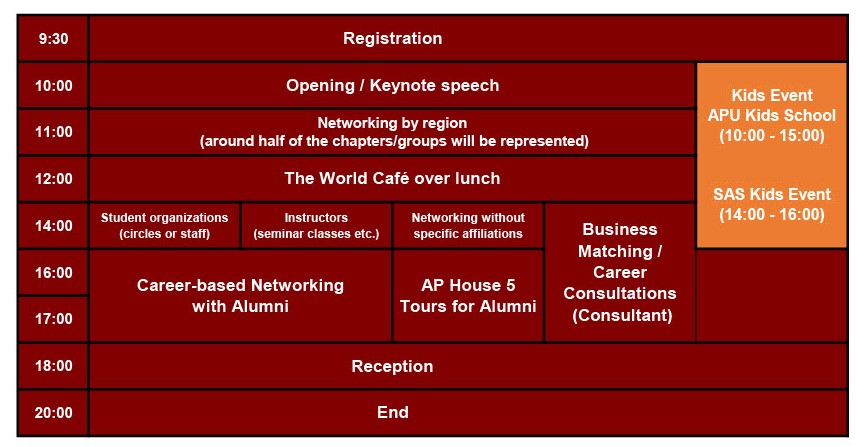 Location:
APU Campus
Registration:
For participants arriving in the morning, registration will open from 9:30 in the Millennium Hall. For those who are arriving later, registration will be available in the Green Commons (new academic building) from 10:30 to 14:30. There will be separate lanes dividing alumni by class year, as well as lanes for faculty and staff, and students will be grouped by college (APS, APM, ST). We will also distribute a handout containing maps of the campus and the event schedule.
Opening/Keynote Speech:
Following registration, an opening speech will be delivered jointly by a number of speakers (alumni from the first to the more recent batch and friends of APU), in the Millenium Hall, to kick off APU Global Family Day.

Networking by region:
Around half of the Alumni Association chapters/groups will be represented. Alumni/students can foster exchange with alumni from the regions in which they are interested for the purpose of off-campus study, internships or employment.
Chapters: Africa, Bangladesh, Cambodia, Chubu, Europe, Fukuoka, Ho Chi Minh City, Kansai, Kanto, Latin America, Myanmar, Oita, Pakistan, Singapore, Sri Lanka, Taiwan, Thailand, Tonga
Groups: APU Kids School, APU REN (APU Researchers and Educators Network)

The World Café:
This is a forum for discussion in a relaxed atmosphere, much like being at a café. Participants can move freely and engage in dialogue at their chosen table over lunch in the cafeteria. The APU cafeteria offers both Japanese and international food for purchase, and also serves several halal and vegetarian options. Stage performances by alumni are also being planned.


Networking by student organization (circles or student staff):
Alumni and students of the same circle or student staff also have the opportunity to deepen exchange. 7 student organizations will be represented, allowing for juniors and their seniors who have graduated to foster connections.

Networking with instructors (seminar or other classes):
These are opportunities for alumni and students who have been instructed by the same faculty to deepen exchange. More junior students who have yet to decide on their seminar class are also welcome to visit these venues to chat with the instructors as well as past and present students of seminar classes that may be of interest to them.

Networking for those without specific affiliations:
There will also be a venue for participants without specific affiliations to socialize freely. Faculty have been invited to join this open networking session.

Business matching/Career consultations:
For students who are seeking employment or alumni looking to make a career change, there will be a business matching event featuring twelve Oita-based companies/organization from various industries. Each company will have a booth for participants to interact face-to-face, and career consultation services are also available.
Companies scheduled to participate:

Career-based Networking with Alumni:
Free career events on a variety of career paths will be organized for students' first employment and alumni's mid-careers. The following topics are planned to be hosted by alumni: finance, startups, international organizations, manufacturing etc.


Events for Children:
For those bringing children, APU Kids School have prepared activities for endless fun. Participants can challenge trivia questions, collect stamps as they explore the campus, and discover more about their family's alma mater. Current students and adults are also welcome to join.
Additionally, Student Activity Station (SAS) will hold an international exchange workshop for the children of APU alumni. Children can travel the world with APU, experience multiple cultures and learn different languages! There will also be a Japanese booth for our visitors from overseas.

Tours:
AP House tours will start from the Community Lounge on the 4th floor of AP House 5 from 16:00 and 17:00 and include the display room of AP House 2 (for those who wish to see it).

Reception:
The celebratory reception for APU Global Family Day will take place in the Millenium Hall. On behalf of the Alumni Association, the Chairperson will announce the Pledge (a commitment to strengthen the Association's continuous support to APU). We will also honor President Deguchi and welcome the incoming president. Lastly, this reception will be co-hosted by APU for alumni, students, faculty and staff to renew ties with one another over a buffet-style reception dinner at the APU cafeteria.
*The reception will be livestreamed and available to watch on YouTube.

OTHER NOTES
Accommodation:
A discount of up to 3,000 yen is available by reserving through the Beppu City Official Accommodation Reservation Website (https://www.yunotabi.jp/). 29 hotels are featured on this website and the discount is available while Beppu City's support lasts.

Time Capsule:
In February 2015, as part of the APU Alumni Association's 10th-anniversary project, a time capsule containing banners with messages from graduates was buried. On the Alumni Association's 20th anniversary, the capsule will be unearthed and exhibited in a prominent location on campus for all visitors to see.

Gift:
All alumni and students who have pre-registered and participate in person will receive a unique 20th Anniversary gift.

APU Cafeteria:
The cafeteria will operate from 12:00-14:00 during the World Café. The participants may purchase their own meals.
The Reception (18:00-20:00) will be co-hosted by APU at the cafeteria and free of charge for alumni, students, faculty and staff who have pre-registered.

Other Food Options:
If you are looking for other food options, food vendors are planning to set up at APU outside of the cafeteria. Moha's kebabs and Ricos' tacos will be available around the fountain, and you are free to bring your meal to the World Café. The convenience store Lawson (opened on campus since 2020) will be open from 8:30-22:00 as well, offering bentos, snacks and any other items you may need.
Olive (located in Green Commons) will be open from 14:00-17:00, serving pastries and coffee.

*CO-OP shop and the Pacific Cafe: closed


Health Clinic & Breastfeeding-friendly Spaces
The health clinic, located on the first floor of Building A, will be open from 10:00 to 18:00.
There are inclusive restrooms available on campus to accomodate all individuals, with unisex toilets on the first floor of most buildings. There are two multipurpose restrooms located on the second floor of Green Commons which can be used for nursing.

Smoking
Smoking is prohibited on campus. No smoking areas are provided on campus.

Alumni Database
The Alumni Database will serve as a useful platform to enable active communication among alumni and between alumni and students leading up to the 20th Anniversary. For this reason, alumni are requested to update their instructor (if applicable), business career, educational background, visibility settings and search settings in the database, so that alumni who have registered for the APU Global Family Day can be found within the database by fellow alumni or students.
Registration
| | |
| --- | --- |
| August 31 | Registration period for alumni starts |
| September 30 | Registration period for students, faculty and staff starts |
| October 31 | Registration period ends for all |
Ritsumeikan Asia Pacific University Alumni Association
Chairperson: Morse Caoagas Flores
March 2006 graduate, College of Asia Pacific Studies