NEWS
Congratulations, inter APU alumni marriage!!
On July 5, 2014, Mr.Mochizuki Shunsuke(2011) and Ms.Oniyama Kanako(2010) have got married with joy and celebration. Prior to it, on June 2, they had a wedding photo session in front of APU water fountain and at the 4th floor of Building A which has just been renovated. Unfortunately it was raining, however, they were celebrated by President Korenaga and Director Minami, it turned out to be the photo session full of happiness. Mochizuki san, Oniyama san, we wish you two a happy life together forever !!
You can have a wedding photo session on APU campus. If you have paid the Alumni Association Fee, you can use the facilities free of charge. Please contact Administration Office (tel0977781112, fax0977781109) or Secretariat of Alumni Association for making reservation. However, please note that the student and university educational activities have the first priority in using facilities.
Photo shooting in the rain!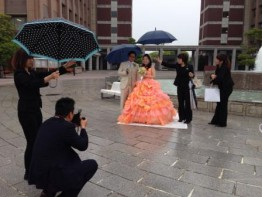 With President Korenaga and Director Minami on the 4th floor