NEWS
Welcome Party held for Fukuoka & Chugoku/Shikoku Chapter
On Saturday, May 25, Fukuoka Chapter held the "Welcome Party for Fresh Graduates" inFukuokaCity. The venue was filled up with around 50 alumni together with current students from Loop.A.S.. Speeches from Chairman Uchida and other alumni members were very inspiring and the exciting "APU QUIZ" was enjoyed by all. Do you remember how much "Agedashi Nasu" cost in 2003?
On the same day, Oita Chapter held a core member meeting and discussed their plans for activities such as local international exchange events. They even made a "Video Challenge" to send to the Fukuoka Chapter for the beach volleyball match between Oita Chapter and Fukuoka Chapter which will be held on Saturday, August 10 in Beppu.
The Chugoku/Shikoku Chapter also held a "Welcome Party for Fresh Graduates" on Saturday, June 1. Ten alumni gathered at the home of one of the alumni couples. With some of their children together, it had a welcoming, at-home yet vibrant atmosphere – a feature of the Chugoku/Shikoku Chapter. It is indeed lovely to see alumni get together with their children in an Alumni Association event, isn't it?
APU thanks all who donated to the "APU Global Leader Development Scholarship Fund" at the party. The donation amounted to 15,000 yen for the Fukuoka Chapter and 8,000 yen for the Chugoku/Shikoku Chapter. We greatly appreciate your generation. The donations will be deposited into the fund to provide scholarships for your future KOHAIs.
▼ Fukuoka Chapter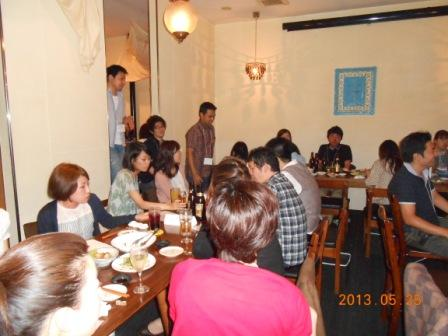 ▼ Chugoku / Shikoku Chapter